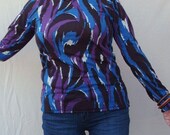 Real cute womens sweater, size S-XS in a super soft sweater knit with extra long sleeves. This womens knit top in shades of purple, blue, black and cream swirls will go the distance for you.
Completely comfortable and ready to dress up or down, this tunic sweater is washable. A womens S-XS, this knit top does has some give to it. Measurements are below:
Bust 32-34"
Hip 35-...
Click Here to Visit My Etsy Shop!