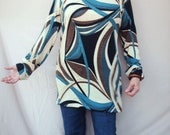 Super cute womens XL, 1X sweater or tunic top with extra long sleeves. Size 16 - 18, belt it and wear as a mini dress! Great teal, brown and cream print in a soft plus size sweater knit.
This womens sweater has extra long sleeves that can be pushed up or rolled up, or neither - it's up to you. Pretty tunic or sweater knit top fits a size 16 to 18, it is an XL+. Measurements are below.
Click Here to Visit My Etsy Shop!