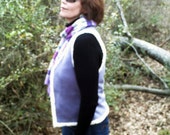 Womens vest size XS or S of light purple or plum faux suede and creamy white sherpa. A fabulous look in womens outerwear, this vest will take you anywhere. A soft and warm womens vest, warm enough to ward off a chill on a cool day or even to wear inside.
Perfectly comfortable and fashionable vest to take you from winter into spring.
This womens vest is an XS or S. Model wears size me...
Click Here to Visit My Etsy Shop!