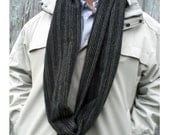 Sale - Mens infinity scarf. Good looking black and grey stripe handmade circle scarf. This infinity scarf is perfect for spring time. It has a double layer of fabric and is about 8" wide and a total of 68" around. It is made with a cotton/poly blend and looks great!
Ready to ship.
Sale - was $16, now $12!
Machine wash in cold and dry on low heat.
...
Click Here to Visit My Etsy Shop!