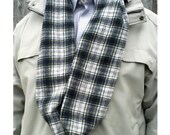 Blue plaid infinity loop scarf, nice looking mens plaid infinity scarf. This warm, winter scarf has a double layer of fabric and is about 5" wide and a total of 59" around. Great looking blues, green, cream and a stripe of yellow tartan plaid.
This infinity scarf is long enough to wrap around your neck twice and keep you warm while looking great! Ideal for women too!
Ready to ...
Click Here to Visit My Etsy Shop!